April 17th, 2017 by Eli P
Although most people think of Arizona as a desert state, it actually has many different environments, each of which can present different driving risks that can lead to an auto accident. Here's how to protect against three of the most common weather-related driving hazards.
Driving In Dust Storms
Dust storms are a common occurrence in Arizona deserts during the summer, making the air so thick you can barely see beyond your hood.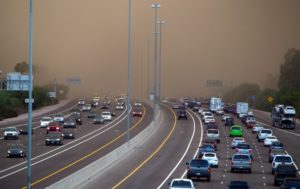 Fortunately, dust storms can usually be spotted from a distance, giving you plenty of time to react. At the first signs – dark clouds that go all the way to the ground, dirt and dust flying around – immediately look for a safe place to pull over and wait it out.
Once off the road, turn your flashers on. Drivers caught in the storm may not realize you have come to a stop, and could rear-end your vehicle, thinking you are still driving. Once the storm has passed, wait until you have at least 300 feet of visibility before resuming driving.
Driving In Monsoons
Summer can also bring monsoons that cause flooding and hazardous road conditions. If you get caught in one, rule #1 is never underestimate the power and force of moving water! With that in mind, do not:
Enter flooded areas
Attempt to cross flooded streets or flowing streams
Park your vehicle next to streams or washes
Attempt to break through barricades (they're there for a reason)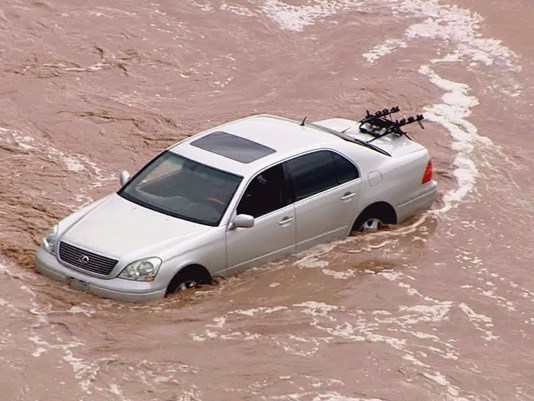 Most importantly, if your car gets caught in rising water, immediately get out of the car and make for higher ground.
Driving In Extreme Heat
People living in Arizona sometimes forget that extreme heat can pose driving risks – especially if your car breaks down in the middle of nowhere on a blistering day. To avoid getting stranded, keep your car well maintained by:
Keeping engine fluid levels full at all times, especially the coolant
Frequently checking engine belts and hoses
Replacing your battery if it's old or has trouble starting the car
Making sure tires are properly inflated
Just in case, keep an emergency kit in your car. This should include water, non-perishable food items, flares, jumper cables and a flashlight with extra batteries.
If your car suffers damage due to inclement weather conditions, bring it into your nearest Fix Auto Arizona auto body shop 
We are the premier independent body shop network delivering world-class customer service and high-quality collision repairs across the U.S.