December 13th, 2018 by Fix Auto USA
For many people, a car means nothing more than basic transportation, a means of getting from point A to point B, when needed. For others, their car is much more. It's their prized possession, their hobby, their pride and joy. For true car lovers, their car is often more like a member of the family than just a well-built. So, why not present the car lover or "gearhead" in your life with a gift they will be excited to receive – a car item or gadget designed to making driving safer or more fun? Here we take a look at nine holiday gifts your car lover is sure to love.
Practical Car Gifts
If you like to drive with your dog in the car or have small children who like to snack when sitting in the back seat, protecting your nice cloth or leather upholstery can be a constant struggle. Car seat protectors allow your family pet to go anywhere you do without worrying about dirty paws scratching or soiling the seat. And, your kids can spill food and drinks without causing permanent damage. Car set protectors come in many different sizes, shapes, and materials. The best will include the following:
Non-slip surface
Pockets for storing small items
Be made of high-density foam, neoprene, or similar material
Be spill proof and scratch-resistant
True car lovers take great pride in the appearance of their vehicles, and will appreciate getting a complete kit to wash, wax, and polished their prized possession. For gift-givers on a budget, basic no-frills kits start at around $10. These typically include cleaners for the paint and tires, as well as glass wipes. For the big spenders, high-end kits that contain all the bells and whistles can reach $200 or more. These contain everything needed for a complete detail, including polishers, buffers, towels, cleansers, and more.
Give a vacuum to your wife for Christmas and you may get the cold shoulder. Give a portable hand vacuum to a car enthusiast and you'll probably get a high five and many thanks. Car vacuums come in four basic types:
Corded hand vacuum for home outlet
Corded hand vacuum for car outlet
Cordless hand vacuum
Small shop vac (can suck up dirt and water)
Cheaper models will have cords. Higher-end models will be cordless, lighter in weight, and will offer other user-friendly features such as making sure the battery doesn't overcharge.

Safety Car Gifts
From a safety standpoint, dash cams are invaluable for documenting collisions to show you're not at fault or providing evidence to support an insurance claim. They can also help avoid paying for a crash-for-cash scheme, where criminals deliberately stage a crash to extort money from you or your insurance company. Safety aside, dash cams are also great for recording fun and interesting scenery and events as your car lover roams the countryside. Dash cams offer many different options. For a dash cam that's sure to please your car lover, look for the following features:
Reliable video quality
GPS functionality
Bluetooth/WiFi capability
Easy to mount on the dashboard

Talking on a cell phone while driving is not a good idea, and it's illegal. A Bluetooth hands-free car kit will help keep your car lover safe be enabling him or her to talk on the phone without taking their eyes off the road. The best kits automatically switch on and off, and offer an easy to read LCD display, built-in voice recognition, noise reduction, no battering charging, and other features.
These handy tools consist of small mirrors that attach to a car's driver- and passenger-side mirrors to provide visibility of vehicles outside the driver's field of vision. Blind-spot mirrors made with aluminum cost more, but they also last longer and are more reliable. Look for the following features:
Distortion-free
Easy to mount
Minimal glare
Vibration-resistant and shatterproof
If you love your car-lover, this gift can be a real life-saver!

Just for Fun Car Gifts
When you really want to spiff up a car, nothing says "I'm a car aficionado" better than a custom steering wheel. They come in many different materials, colors and designs, and all provide a look and feel that any car lover would be proud of. If your car lover is into speed, a custom racing wheel will surely delight. For those seeking the ultimate in luxury, a high-end wheel wrapped in Italian "napped" suede with anodized aluminum spokes can't be beat. Whether the custom wheel you give is constructed of metal, wood, leather or foam, your car lover will be thrilled to wrap their hands around it every time they get behind the wheel.
A great gift for those on a budget, this documentary showcases the life of the legendary move actor and auto enthusiast Steve McQueen. The Man and LeMans takes a behind the scenes look at the creation of iconic movie while delving into McQueen's passion for the world of auto racing. Your car lover will watch this one again and again.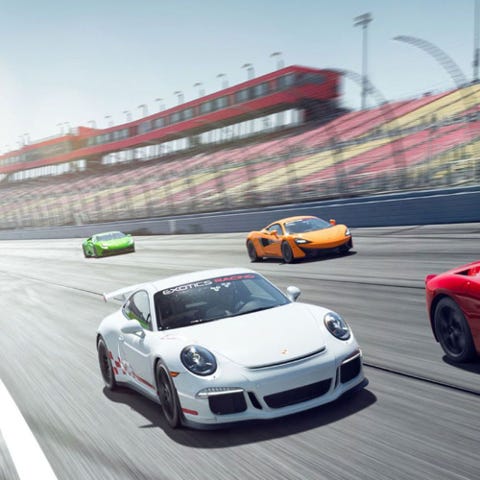 This one will set you back a few shekels ($1,200+), but the Ultimate Exotic Car Racing Experience in Las Vegas will give your car enthusiast the thrill of a lifetime. The base package offers a choice of five supercars and five laps at high speed around the Las Vegas Speedway's road course. When you see how much fun your car lover has, you will probably want to do it yourself!
Have fun shopping for your car lover. Please drive safely.
We are the premier independent body shop network delivering world-class customer service and high-quality collision repairs across the U.S.